Texas Cat Reunited With Owner After Two-Week Visit To Pitt State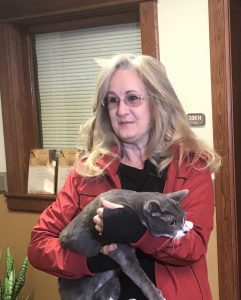 A lost cat from Texas was reunited with his owner after spending more than two weeks visiting the Pittsburg State campus. Vicki Neu was traveling through Pittsburg on her way from Basehor, Kansas, to Kingwood, Texas, on November 20th when her dog accidentally opened the car window and her pet cat Mr. Peabody jumped out near the campus. Neu and her husband searched for the cat for approximately three hours before having to drive on to Texas because of a medical appointment.  Local residents saw a Facebook post from Neu and began posting wanted signs for the cat. Students from Girard High School learned of the story and also posted signs and searched for the missing cat as a service project.
Mr. Peabody was identified on Tuesday (12/6) near the Student Health Center. Pittsburg resident Elizabeth Kutz had also been aiding in the search and volunteered to foster Mr. Peabody until Neu could return to Pittsburg.  Neu and Mr. Peabody were reunited Wednesday afternoon at Russ Hall on the Pittsburg State Campus.
It was learned that before the wanted posters went up identifying him as a missing pet, students had been feeding Mr Peabody and one student even let him sleep in his dorm room on a cold night.
"I'm so grateful for the kids for taking care of him, for feeding him," Neu says. "This is just a loving, wonderful town."