Former Pittsburg Cop Charged With Sexual Battery & Misconduct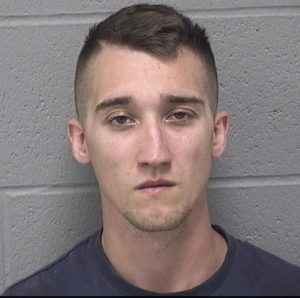 Former Pittsburg Police Officer Jesse Edward Loren Davis, 22, is facing aggravated sexually battery and official misconduct charges from allegations he coerced a female in his custody to provide sexual favors in exchange for assisting with her case.
According to a statement from the Crawford County Sheriff's Office, on August 26, Davis responded with another Pittsburg officer to a domestic disturbance call. A female at the scene was arrested and placed in Davis' patrol car for transport. According to the statement, Davis asked the detained woman to show him her breasts and allow him to touch them. The female told investigators she complied "out of fear and was afraid of what might happen if she declined the officer's request." The statement goes on to say the woman told investigators that Davis told her he would manipulate the Domestic Violence report he was filing and possibly help her get out of those charges associated with the incident.
The Crawford County Sheriff's Office assisted with the investigation at the request of the Pittsburg Police Department. Pittsburg Police had already opened an internal investigation.  Sheriff Dan Peak says there is additional evidence beyond the victim statement that enabled charges to be filed. Davis is currently free on a $25,000 bond.  The Crawford County Sheriff's Office is continuing to investigate the incident.
A statement from the Pittsburg Police Department says Davis was placed on administrative leave immediately upon knowledge of the accusations and within a few days he was no longer employed by the department. It is unclear if Davis resigned or if his employment was terminated. The statement from Pittsburg PD says Davis was employed for approximately seven months by the department.
Sheriff Peak was eager to point out that the alleged actions of Davis do not reflect the the Pittsburg Police Department. "They have some fine individuals who work for that department," Peak Says. "Our thoughts are with them as they work through this situation."