Gun Shop Told Not To Display Firearms At Third Thursday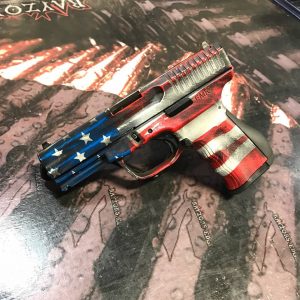 A downtown firearms store is being told they can participate in Joplin's Third Thursday, but only if they don't bring their guns. Brandon Kelly, owner of Rayzor's Edge Tactical says the Joplin Downtown Alliance says he cannot display his custom-finished firearms as artwork. Kelly says the guns are not in danger of being fired.
"We keep them under knife-locked cases, cable-locked and everything," Kelly says. "While they're on display, they're completely safe, completely unloaded."
Rayzor's Edge has displayed the firearms in previous years, but according to Kelly, the Downtown alliance says he can no longer display his wares at the event.
The Third Thursday events are held monthly in downtown Joplin and feature local artisans, musicians and food vendors.
Kelly says they don't display standard issue firearms, but instead custom-finished guns. Kelly says he feels the custom firearms fit in with the artisan theme of Third Thursday.
"That's kind of what we displayed down there," Kelly says. "Staying with the art scene, the custom stuff, and that's kind of what brings people into our business. Rayzor's Edge will have a booth at this Third Thursday (5/18) but instead of custom firearms, Kelly will have a petition asking the Joplin Downtown Alliance to reconsider it's position. NewsTalk KZRG has reached out to the Downtown Alliance for comment.