Senators Oppose Reduction in Military Pensions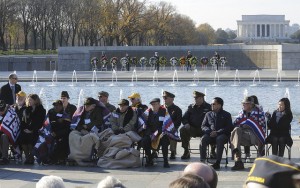 On December 8th the Congressional Budget Office issued a report advising the end of a program known as concurrent receipt that allows some veterans to receive both their military pension and disability benefits.
While a member of the House of Representatives, Senator Roy Blunt sponsored legislation to enact the program in 2003, and tells NewsTalk KZRG, he doesn't think it should stop now.
"I think that when members of the House and Senate hear from veterans organizations, and veterans groups, and the individual stories that can be told about retiring, but still having the same disability that others who retired didn't have, that we'll continue to have concurrent receipt," Blunt says.
Prior to 2003, if a military retiree with 20 or more years of service received a disability payment from the Department of Veterans Affairs, their military retirement pension would be reduced in an amount equal to the disability payment. The Congressional Budget Office report estimates revoking concurrent receipt would save $139 billion over an eight-year period.
Veterans service organizations lobbied for concurrent receipt for decades arguing retirement pay and disability pay are separate benefits, and the old VA offset treated military retirees differently from other federal employees who retired and collected disability payments.
Senator Claire McCaskill agrees with her GOP counterpart is support of concurrent receipt. In a statement provided to KZRG from her office McCaskill says, "like most veterans and veterans organizations, I believe that it is unfair to reduce some veterans' retirement pay to compensate for the VA disability benefits they receive."
Blunt says he read the recommendations in the report from the CBO and is planning to monitor the situation, stating, "my guess is, our side wins."